Well, I finally did it. I finished my final report on the Protests in Mexico City. I'm exhausted, My eyes burn and my back hurts but I'm done with school. Let's just hope I get a decent grade!

Some news:

Toño got into a car crash on 24 March. He's fine, afraid he has some kind of brain damage of course, but the car will never be the same.

His story is that he was turning a corner and lost control, a story I believe because since I've known him, I've told him to slow down around the corners. Of course, he thinks himself the greatest driver in the world (ask him, he'll tell you) and never pays attention....maybe now he will.
He crashed into the divider, popping both tires and breaking something that contained liquid under the car. In Mexico, anything that is not provately owned is National Property and it is very illegal to damage National Property....because there was a scratch on the ground, the police wanted to jail him. Toño was ready for that but his father wasn't and instead gave into the corruption that everyone complains about but can't live without. He paid 3,000 pesos to keep his son out of jail.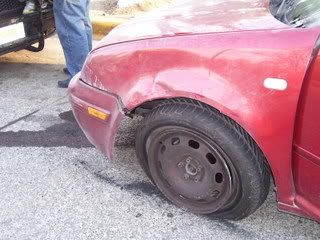 Toño's dad is getting a new car that the Jetta was supposed to be left to us...who knows what's going to happen now.